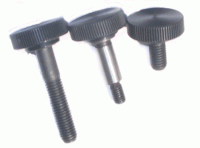 The Full Collection, Left to Right:
Bag Release, Seat Release, Windshield Release
Click Thumbnail For Larger Image
Longtime followers of this site will know the saddlebag quick release for Nomads was among the first posts ever made and was based on a weed wacker part with an oversized bolt inserted. Since then I've added the seat quick release and windshield quick release and now they're all collected on the same page.
Making the entire set will consist of ten plastic thumbscrews @ about 16 cents each at your local hardware store, ten assorted bolts totaling about three dollars will bring the grand total to... Figure five bucks for everything (using the smaller knobs for the bag release). Just something to keep in mind if someone ends up trying to sell these things on E-bay for $20 a set.
If your local hardware store (you aren't likely to find them at Home Depot or Lowes) does not carry the thumbscrews or cap bolts mentioned, you can order them from an online company, McMaster Carr. The thumbscrews shown in all descriptions (except the large saddlebag quick release) are part number 91175A66 which will be sent in a package (25) ($7.40 the package at this writing). Bolts are also available from Carr but, as with the thumbscrews come in packages which will increase your cost a bit. Just think of all the great gifts you'll be able to give other Nomad riders when you see them on the road.
You do not need any fancy tools to make these. A bench vise is handy for pressing the bolts into the plastic thumbscrews but if you have a sturdy flat surface a cloth pad (to prevent scratching the knob), piece of wood (so you don't damage the bolt threads) and hammer will do just as well.
One caveat pointed out to me by someone who made a set of these. The plastic used for the press on knobs is Acetal. This particular plastic apparently becomes brittle at temperatures below 32 degrees farenheit. So, if you're planning to work on your bike out in sub freezing temperatures these knobs might not work for you <grins>
Enjoy!
Gadget

Bag Quick Release
You can easily and inexpensively replace your hardbag bolts with a Quick Detach device that will allow you to tighten/remove them by hand. There are two simple ways of doing this. One gives you a fairly large knob, about 2.5 inches across which will be best for anyone with arthritis or any kind of gripping problem. The other is less expensive and much smaller, about an inch across.
Compare The Two

Comparison Small 1" knob vs Larger 'weed wacker' knob from side


Comparison from end


Another Alternative, cut knobs from wood and put a bolt through.
(thanks to Martin Wood)
Click Thumbnails For a Larger Image
Instructions for the Larger Knob (go directly to instructions for the smaller knob)
First off, these bump knobs are sometimes difficult to find and will cost you about five bucks each. The smaller knob option (below) will cost you less than that for the full set. If you have any arthritis in your hands or your grip isn't particularly strong though you'll really appreciate the larger size knob.
With one of the hardbag bolts, go to a hardware store/Lowes/Home Depot kinda place and purchase 4 Spool retainer bump knobs for a Homelite ST385/ST275/ST285BC weedwacker and four 8mm bolts that are 1/4 inch longer than your stock hardbag bolts (M8 (1.25) x 50mm ( 80 mm for 1600 Nomad) Hex Cap Bolt Class 8.8 are perfect).
Using a center punch and hammer, firmly tap on the end of the bolt in the bumpknob to knock out the silver cap.
Replace the bolts that are in the bumpknob with the new bolts. Stuff something in to fill the gap between the bolt top and silver cap to prevent the bolts from pushing back as you try to insert them (an old nut will do).

Instructions For Smaller Knob (much thanks to Dick Spors for this one)
You will need
4- M8 x 45mm ( 80 mm for 1600 Nomad) stainless steel cap screws from your local hardware store or McMaster Carr (part number 91292A208)
4- M8 Thumbscrews (26mm) Those shown are a 'knurled' type but other designs are available.
Simply place the bolt head in the space provided on one side of the plastic knob and press them together in a bench vise or using a hammer tap the bolt into the knob (use rags to prevent marring the knob and wood to prevent damage to the bolt threads). The head of the bolt will sink completely into the plastic knob and you're finished! Do three more and replace the 10mm bolts holding the bags to the bike.
For some odd reason the bolts on the left side of the bike tend to loosen on their own. The fix is a drop of blue locktite (anyone with a motorcycle really needs a small container of the stuff anyway) on the threads. Allow to dry then screw the quick release bolts into the bag supports. The Locktite acts a little like a nylon self locking nut and prevents the bolt from turning on its own but only gives slight resistance when the bolt is removed by you.
Voila'! Which ever method you chose you now have four Quick Detach devices for your Nomad hardbags. It usually takes less than 15 secs to remove the bag on either side.
This is especially handy for cleaning the rear wheels and checking the tire pressure.
Seat Quick Release
What is the one part you always seem to be removing when you add accessories or clean your Nomad or Classic? Yep, the seat but removal on our bikes requires a 10 mm socket and socket wrench. In the case of the Nomad it's handy to have a socket extention too. Not a big problem if you're in your own garage but what about on the road or when the proper tool isn't handy? How about a quick release just like the one you can make for your Nomad's bags?
Click Thumbnails For Larger Image


Left to Right:
1. Plastic Thumbscrew 2. M8 X 20 w M6 thread Shoulder Bolt 3. M8 X 12 w M6 thread Shoulder Bolt 4. Pressed together assembly


Left Side Of Bike Showing Air Balance Fill Valve With Shorter (M8 X 12) Shoulder Bolt Required For Clearance


Right side of Nomad, showing longer shoulder bolt (M8 X 20) required for clearance of air valve. If you don't have the air balance kit, use the shorter bolt on both sides.
Parts Needed
2- M8 Thumbscrews (26mm)
1 or 2 (see explanation below) M8 (1.25) X 12 w M6 thread Metric Shoulder Bolt (McMaster Carr number 92981A201 )
1- M8 X 20 w M6 thread Metric Shoulder Bolt (possibly) (McMaster Carr number 92981A203 )
Total Cost, less than three dollars (so don't let someone try to sell you this mod on E-bay for $12 like they do the bag release ok?)
These parts are not likely to be available at a Home Depot and possibly not even a Lowes. You'll have to find yourself a 'good' hardware store (Ace is where I found mine) that carries a nice stock of metric bolts. Not in your town? Then visit McMaster Carr and order your parts. While you're at it you Nomad owners can order 4- M8 (1.25) X 45 Allen head bolts (which will fit the thumbscrews) and press together your saddlebag quick releases at the same time. You can also use a standard metric Allen head bolt for this (without air kit) but you need some long strong fingers to reach in and turn the knob if you go that direction.
How To
Here's the parts distinction. If you do NOT have an air shock balance kit mounted on your bike you can use the two shorter M8 X 12 shoulder bolts. If you have the air kit you need to use the shorter M8 on the left side to clear the air kits Schrader valve and you need the longer M8 on the right side to clear the air hose bib (see photos above)
All you do is, using a vise, press the appropriate shoulder bolt into the thumbscrew, remove the stock 10 mm bolts and replace with your new creation. Piece o' cake!
---
Windshield Quick Release

You Can Get The Thumbscrews In Aluminum or Stainless Steel, See Text Below.
Click Thumbnail For Larger Image
The parts needed are pretty much the same as above, just different bolts.
You'll Need
4- M8 25 mm thumbscrews (if you're tempted to purchase a larger part than this don't. The lower one will interfere with the lowers)
4- M8 (1.25) X 16 Cap Screws
As above just press the cap screws into the thumbscrews and replace your original parts with them. Now you can remove the windshield in less time than it used to take you to find the 5 mm Allen wrench.
But you don't want a black plastic knob hanging out there where everyone can see it right next to those lovely chrome windshield mounts. No problem, check out the McMaster Carr Catalog pages 2000 and 2002 where you'll find the thumbscrews in aluminum and stainless steel. Be warned, they are 'not' 15 cents each.
If you need an even quicker windshield release (and don't mind a little surgery on your bracket) check out this Gadget page.